We may earn money or products from the companies mentioned in this post.
Ibotta * Earn money for uploading your grocery receipts!
* Get a $10 welcome bonus!
* Can also earn cashback from shopping at other stores such as BestBuy! Last Updated: 11/26/2018
Greek Marinated Chicken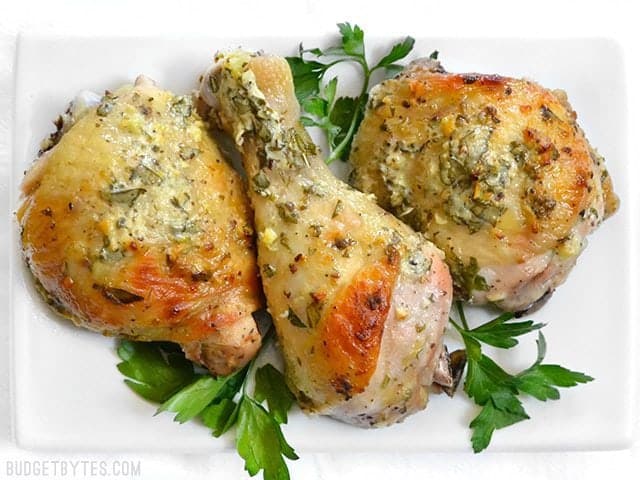 image courtesy of Budget Bytes
I wanted to start off with my favorite recipe from this list. This greek marinated chicken recipe, is easy, cheap, and the end result is literally the most flavorful chicken I've ever made. Seriously.
What makes this recipe so delicious is the wonderful marinade made up of greek yogurt, and common spices like garlic, pepper, oregano, salt, pepper, and parsley – there's also a bit of lemon juice!
The chicken is marinaded for 30+ minutes, then you can cook it on the grill or in the oven! Give this delicious recipe a try!
Price Per Serving: $1.12 serving
Servings: 8
Time to Complete: 1 hour 45 Minutes (includes prep)
Keto Bacon Ranch Chicken


image courtesy of Fabulessly Frugal
Cheese. Bacon. Ranch Seasoning. Chicken. It already sounds delicious! This Low-Carb / Keto-friendly recipe cooks up in about 35 minutes and is the perfect kid-friendly meal to serve your family on a weeknight when you're pressed for time!
To make this recipe, a sauce is made using butter, cream, broth, ranch seasoning, bacon, and cheese. Then chicken and cooked broccoli are added to the sauce, then cheese and bacon are added to the top, and the entire mixture is cooked in the oven.
Servings: 8
Time to Complete: 30 Minutes (includes prep)
Calories: 550
Fats: 43g
Proteins: 35g
Carbs: 6g
Cheesy Hasselback Zucchini Pizzas


image courtesy of Fabulessly Frugal
Everyone lovesss pizza, even you, right? Unfortunately, traditional pizza has tons of carbs (sorry pizza crust!). Just hear me out for a second, what if you used zucchini as an alternative to crust? Don't close this page just yet! Give it a chance, okay?
The zucchini is very mild in this recipe, the pepperoni and cheese are the main flavors that stick out – which makes this recipe great for kids and picky eaters.
This recipe for hasselback zucchini pizza only has five ingredients, only takes 5 minutes to prep, and is a lovely low-carb alternative to pizza!
Servings: 1
Time to Complete: 25 Minutes (includes prep)
Beef Cauliflower Fried Rice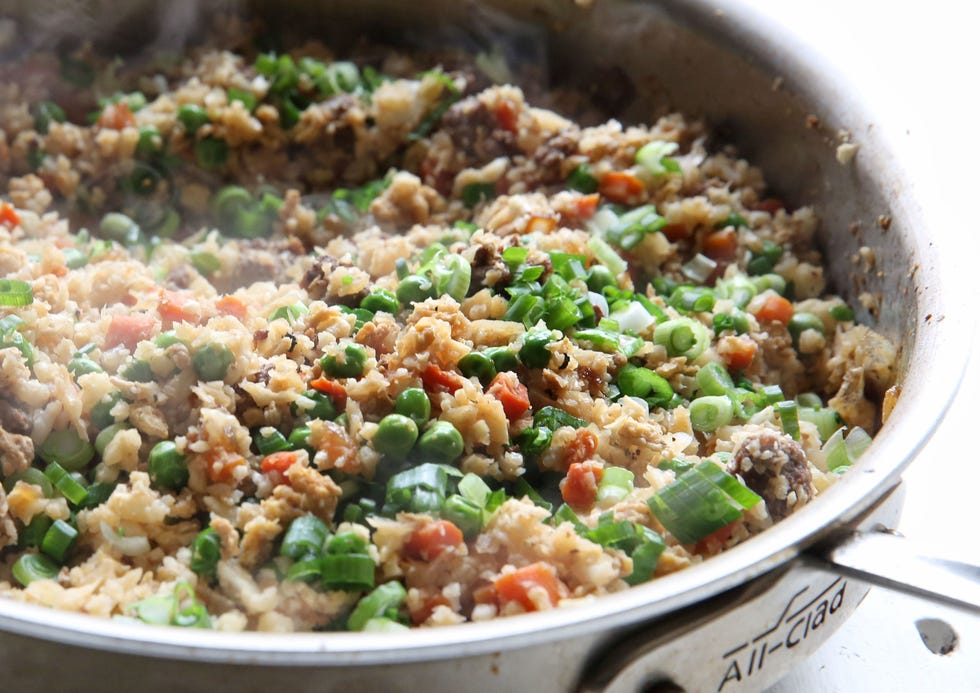 image courtesy of delish
This little low carb recipe is both budget-friendly and delicious!
It uses cauliflower as a replacement for the rice! Clever, right? The only things you'll need besides the cauliflower is beef, a white onion, carrots, peas, and green onions.
Servings: 4
Time to Complete: 40 Minutes (includes prep)
French Onion Zoodle Bake


image courtesy of Climbing Grier Mountain
Do you love French onion soup? (Silly question… Who doesn't?!)
Well this recipe uses the flavor of French onion soup and puts it into a low carb pasta bake! Instead of normal noodles you use zucchini noodles, then add some other veggies, some spices, and voila! Tasty french onion zoodle bake!
All you need is 15 minutes of prep time and then it cooks for 40 minutes. Easy for busy weekdays!
Servings: 4
Time to Complete: 55 Minutes (includes prep)
Save Money On Groceries
Don't forget to signup for Ibotta to start saving money on groceries!

Ibotta * Earn money for uploading your grocery receipts!
* Get a $10 welcome bonus!
* Can also earn cashback from shopping at other stores such as BestBuy! Last Updated: 11/26/2018